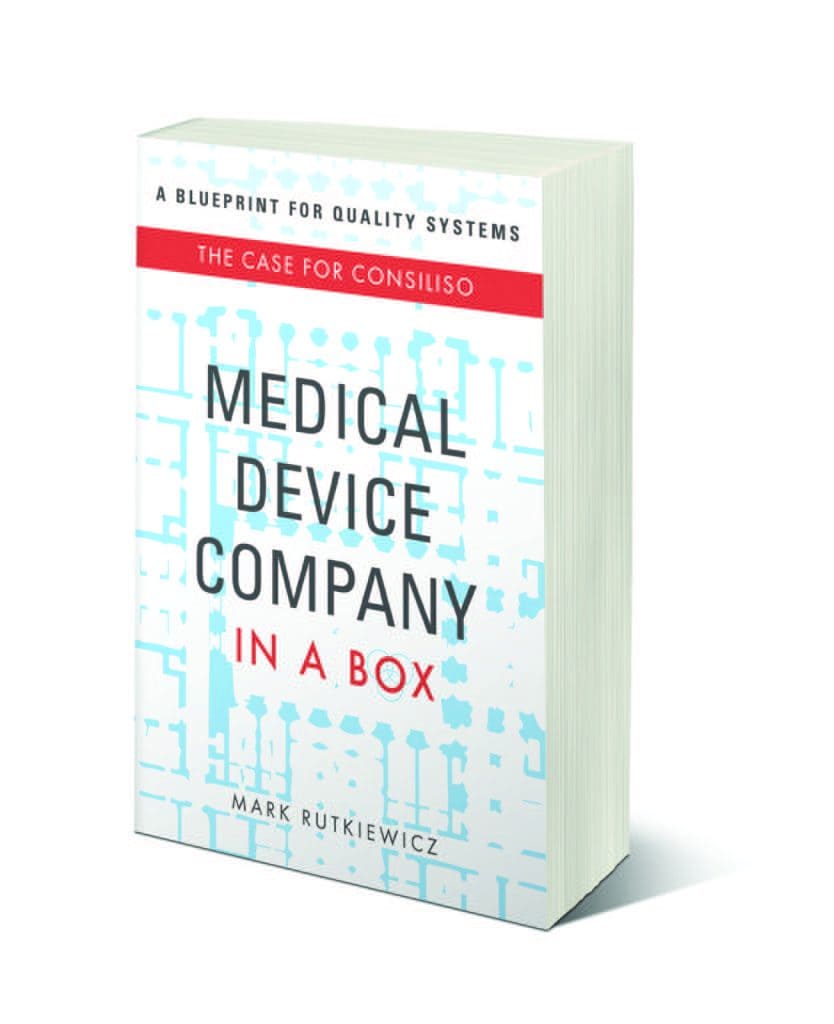 The Case for Consiliso: Medical Device Company in a Box
What is Consiliso and why do you need it? This 150-page introduction to Consiliso's integrated business process approach, specifically architected for the Medical Device Industry, explains it all. Geared towards company leaders, this quick read provides many examples of how Consiliso transforms your whole business, from product quality to clinical trials to finance. Available in paperback or e-book from Amazon.
Since saying "engineered, integrated business processes for medical device companies" is rather a mouthful, we invented a new term. The Latin word consili, means "design." The Greek word isos, means "equal." The new term stands for the concept of designing, integrating and standardizing business processes across business systems. Specifically, Consiliso means designing for unity of process and standards across the varied aspects of running a business.
Consiliso is the first standard for how to design your business processes and information so it all works together. The result? A world-class Quality System and massive productivity improvements company-wide. It works just as well for start-ups as it does in multi-national corporations.
Still not sure what it means? Think of it this way: you would never break ground on a new facility without a detailed set of blueprints. And you would not ask just anyone to draw up those prints–you'd find a talented architect who can make every system and corner of the building function well. Most companies operate in "silos" or somewhat-connected separate "houses" with the business running within those units according to the experience and knowledge of a specific function, such as Manufacturing, Quality, Regulatory, Clinical…or Finance, Legal, Human Resources and Facilities. This means your company wastes time and energy finding information across your business areas and creating disparate processes (and buying different, expensive technology tools) to get the same kinds of work accomplished. Consiliso is the blueprint that tells you, according the to best practices in our industry, exactly how to build the way your company works. Before these books and website, the only way to get the best business process architect, the one person who has implemented these concepts in many different kinds of medical device manufacturers, was to hire Mark Rutkiewicz. Since he's only one person, and as a former engineer has a certain tolerance for meticulous endeavors, Mark decided a few years ago to write it all down so that anyone, anywhere, can benefit. Too many novel therapies sit on the shelves or in design files because the company could not properly scale up, or once scaled lost it's efficiency and ability to bring change to market. Consiliso is the way forward for the industry–the first set of standards for how to properly assemble the nuts-and-bolts of any medical device company.
Efficiency and continuous improvements have their important place within Consiliso, but as tools for specific focus areas. Nothing before Consiliso has given the medical device industry a standard for operating its business processes. After 30 years in the industry, Mark Rutkiewicz is well known for fixing Quality Systems in all sizes and types of medical device companies. And even more known for moving beyond compliance-focused functions and fixing all the other business process and information sharing issues across the company.
Not sure you need Consiliso? Ask your people these questions:
How much time do you spend just looking for the information needed to do your job?
Are you often stymied by your company bureaucracy?
Do the product line definitions in R&D match the ones in the DHF, the regulatory submissions, as well as the PLM, ERP and the complaints systems?
Are there duplicate business processes for compliance to ISO 9001 (General Quality System), ISO 13485 and FDA 21 CFR 820 (Medical Device Quality System), ISO 14001 (Environmental), ISO 45001 (Health & Safety) ISO 14155 (Clinical) and the FDA regulations for conducting clinical trials? If so, why?
If you are not following the principles of integrated business process design (the core concept of Consiliso) you probably will not like the answers you receive to these questions. Particularly if your product line definitions don't match across the company–that means you are working way too hard to track and trend for compliance, sales performance and continuous improvement efforts.
If you want the solutions–the nitty gritty "how to" make everything work together seamlessly–then you need Consiliso.
Start with the overview "Medical Device Company in a Box" and then move on to the textbook, "Consiliso: The Blueprint." Or purchase a monthly subscription through Blueprint; you'll receive online access to the textbook, the LRGS Database, free document downloads, and much more. Want to start with a free consultation? Contact us and we'll be happy to talk.
NEW!
BLUEPRINT: Consiliso Subscription Services
This one-of-a-kind subscription service provides you with all you need to speed your Consiliso implementation, look up current LRGS (Laws, Regulations, Guidance and Standards) and more! Based on your Consiliso Assessment results, we'll deliver customized information and opportunities to save money and expand your knowledge.
Recent Posts
While walking around a recent industry conference, I'm often asked [...]
Blueprint Subscription Services provides medical device companies with a one-stop [...]
Nobody tells you how to do it, they said. How to integrate [...]